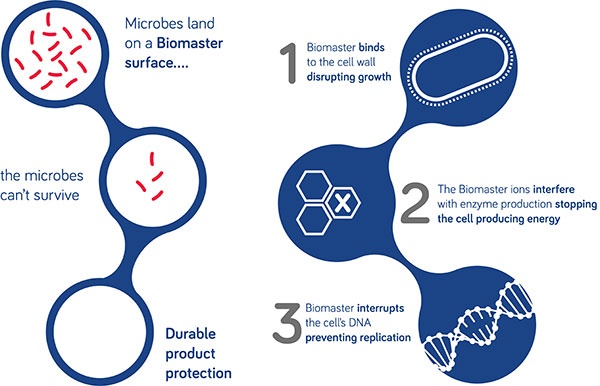 Biomaster is based on silver ion technology and has three modes of action.
When microbes come into contact with a Biomaster protected surface, the silver ions prevent them from growing, producing energy or replicating, therefore they die, inhibiting degradation, discoloration or odors.
Biomaster is incredibly durable, long lasting and highly active. When added, it is dispersed throughout the entire item and becomes an integral part of the product.
Silver is inorganic and non-leaching which means that, unlike organic antimicrobial technologies, it stays within the item to which it is added.
The controlled release of the active ingredient provides maximum antimicrobial protection for the lifetime of the product.
To add effective, versatile and trusted antimicrobial protection to your product range, contact Biomaster now on +18595789055 or info@addmaster.co.uk